Sometimes the most difficult challenge in settling the estate of someone who has passed away is the distribution of personal belongings that cannot, like money, be divided equally. These might include furniture, jewelry, dishes, silverware, artwork, photographs, and clothing. Since the list of items can be too long to include in a will, some testators — people who write wills — create a separate memorandum stating who should receive what.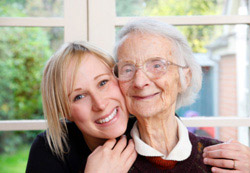 This can be important because often, items of little monetary value have great emotional significance. This can make distribution difficult when more than one person feels attached to a particular item. The process can also become the venue for playing out old family insecurities and grievances. Everyone may revert to the relationships they had as teenagers.
Distribution Methods
That said, most families are able to work out the distribution of personal belongings that have not been directed by the decedent in a fair way. Here are a few methods:
Draw lots and take turns picking items. To make this method even more fair, change the order with each round of choosing. The person who went second in the first round goes first in the second round.  For instance, if there are four children, the order of choosing personal items would flow as follows: 1-2-3-4, 2-3-4-1, 3-4-1-2, etc.
Use colored stickers for each person to indicate what he wants. When there's only one sticker on an item, it will automatically go to that person. When there's more than one sticker, then the family may revert to taking turns on the contested items.
Get appraisals. Deciding on who gets what can become more difficult if some items have significantly more value than others. If families were to use the taking turns method of distribution, the person who gets the first pick may walk off with the only Rembrandt. It may be necessary for a few rounds for everyone to choose items of similar value—some people getting a single item, while others choose several that together are worth as much as the most expensive possession. In other cases, the individual or individuals getting the most valuable items may have to pay the other family members for the value. Alternatively, the family members may decide that the only fair way to go is to sell the most valuable possessions and share the proceeds equally.
Make copies. While many personal belongings are unique, in the case of photographs and videos, copies can be almost as good as the original. Many family members will be just as happy with a copy.
Bring in a mediator. When there are conflicts among family members over particular items, often estate attorneys act as mediators. Attorneys are often expensive and goal-oriented. They want to get the property distributed and complete the task of closing out the estate. A trained mediator can often do a better job of helping the family members get at the root of the interests—resulting in the process healing past wounds, rather than exacerbating them.
In many cases, families use a combination of these methods to come up with a fair system of distribution. Sometimes, however, peoples' schedules get in the way of everyone meeting in one place to make distributions, or the process gets dragged out for other reasons.
When It Goes Wrong
I was once involved in a case where a mother who had recently died left a long and detailed list of which child would receive which belonging. She had seven children and knew from past experience that they did not all get along. She was trying to avoid a big family fight after she was gone. Unfortunately, it didn't work. While six of the children accepted the mother's memorandum, one refused to do so and the matter finally got settled only after a fight in court.
Only years later, did I finally understand why the daughter would not accept the mother's distribution. She had so alienated her siblings even before the fight over the estate that after it was settled, they were never going to talk to her again.  As long as she kept the fight over the estate going on, she maintained a connection to her brothers and sisters. At least that's my theory now.
When It Goes Right
When the mother of an old friend died, she left an estate with a substantial number of heirlooms of varying monetary value. The family devised a complex, but very fair system, to distribute the various items. With their help, I wrote it up in an article for the Next Avenue website, "A Clever Way to Divvy Up Items After a Parent's Death."
Workbook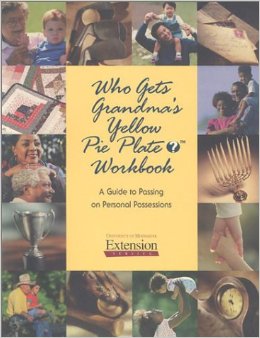 The University of Minnesota Extension School has developed useful materials to help families resolve issues around distribution of personal possessions called Who Will Get Grandma's Yellow Pie Plate? which is available both online and in a workbook format. It is a great place to start both for parents planning the distribution of their estate and for executors figuring out what to do after the fact.
Related Posts
Why Would Anyone Do Estate Planning? A Lot of Bang for the Buck
5 Essential Estate Planning Documents and Why They Matter To You
A Different Approach to Estate Planning