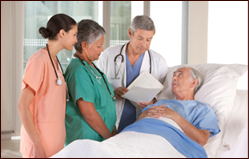 By Harry S. Margolis
Hospitals are more and more frequently designating patients as being in the facility for observation only without admitting them as full hospital patients. The problem with this has to do with the source of payment under Medicare and ultimately, whether subsequent care in a skilled nursing facility will be Medicare covered.
If the admitting doctor believes that the patient, on entering the hospital, will only stay for two days or less—defined as being there less than two midnights—she is supposed to classify the patient as being there for observation only. This will be covered by Medicare Part B. If the doctor expects the patient to stay for at least three days—over three midnights—then she should admit him as a hospital in patient and his stay will be covered by Medicare Part A. Interestingly, the patient will not know which status he is in and his care will not differ. But there can be significant repercussions:
Part A (in-patient status) covers medications; Part B (observation status) does not. In the latter case, the prescription charges may well be covered by a Medicare Part D policy, but there's no guarantee.
If the patient moves from the hospital to a skilled nursing facility (SNF), the SNF charges will be covered for up to 100 days if he had been a hospital in-patient for at least three days. If he had been in the hospital on observation status, none of the SNF costs will be covered. (A possible exception to this limitation is that some Medicare Advantage plan and accountable care organizations have done away with the three-day in patient requirement.)
Given these consequences to patients, why wouldn't every doctor simply admit all patients into their hospitals as in patients? The answer is that hospitals can be penalized for "misclassification." As a result, they may instead err on the side of classifying patients as being present for observation only.
Steps to Take to Avoid Observation Status
There are efforts being made to change this rule legislatively. Until that happens, though, what should patients and their families do? Here are a few steps they can take:
Ask what status they're in. Without an obligation of notice, the patient may not know until it's too late. But the hospital personnel should answer the question if asked.
If the patient is classified as being present for observation only, advocate with the treating physician for reclassification. In some instances, it can help to ask the family doctor to talk with the hospital director. Be aware that once the change has been made, the patient will need to stay for three days (three midnights) afterwards in order to get SNF coverage.
Get the patient home as soon as possible and ask for home health coverage. There is no three-day prior hospitalization requirement for Medicare-covered home health care.
The Medicare Advocacy Project, a national nonprofit organization advocating and litigating on behalf of Medicare beneficiaries, has filed a lawsuit to challenge the use of observation status and provides extensive information on its website, including a self-help packet. Click here to learn more about medical observation status.
Related posts: