Attorney, author, radio personality and professor, Steve Weisman addressed our March First Monday Lunch for Professionals on the issue of protecting seniors from identity theft and scams. It left many of us in the audience afraid to touch our computer keyboards, which appear to be breeding grounds for identity theft.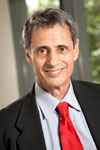 Weisman is a prolific author, having recently published eighth and ninth books: 50 Ways to Protect Your Identity in a Digital Age and Guide to Elder Planning. He also hosts the radio show, "A Touch of Grey," syndicated to more than 50 stations nationwide, and teaches financial and estate planning at Bentley College.  (We're not sure when or if he sleeps.)
But back to the topic at hand. We are all vulnerable to identity theft, especially through our computers, and to scams, seniors even more so than others. Here are a few tips to protect your computer from being a highway to your bank account:
Never click on a link or an offer to download from an unsolicited e-mail — even from someone you know.  As likely as not, a program has invaded your friend's computer and generated an e-mail to all of her e-mail contacts.

Many answers to security questions are easy to figure out. For instance, you might think that it would be difficult to find your mother's maiden name, but with so much information available on the web, it's easier than you think. So, don't give the right answer. Say your mother's maiden name is "Pluto" (unless it actually is) or the name of your high school was "turquoise."

Never believe an e-mail coming from the government. The Social Security Administration and Medicare don't send out e-mails, so anything purporting to come from them is a scam.

Check out unsolicited e-mails by going to the website of whoever claims to have sent it.  For instance, if an e-mail says that it's coming from your bank, don't respond, but check it out at the bank's website.

Many passwords are easy to break. The problem for many of us is that we use the same password all of the time so that we don't forget it. The problem with doing that is that if someone figures out one of our passwords, he's found all of them. So, first start with a nonsense word that's not found in the dictionary. (But don't just use letters in a row from your computer keyboard, since that's pretty easy to figure out.) Then vary them each time you use it by adding numbers or symbols. For instance, your root password might be "azur," which you would then vary by creating "azur1!," "azur!@," "azur!2@," etc.
This is just the tip of the iceberg about scams and means of identity theft that creative and enterprising criminals think up. To learn more about such scams and what you can do to protect yourself, get Attorney Weisman's book or go to his website at www.scamicide.com.