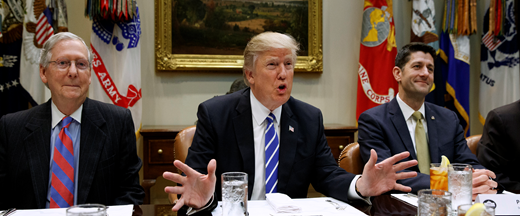 I generally try to avoid politics in my blog posts, but sometimes politics invade my field of long-term care planning. At this writing, the Republican leadership in the Senate is crafting its own version of Obamacare repeal. We don't know what it will look like, and we probably won't know when it's voted on, since Senator Mitch McConnell says his plan is to release it and call a vote before the end of next week.
However, we do know what's in the American Health Care Act passed by Rep. Paul Ryan's House, and what's in President Donald Trump's budget proposal. Ryan proposed cutting Medicaid expenditures by $800 million, and Trump by $600 million, over the next 10 years. While many of the cuts focus on lower-income adults and on rolling back Medicaid expansion under the Affordable Health Care Act, it will affect long-term care services because Medicaid is the primary funder of long-term care in the United States.
In a column in The New York Times, "You're Probably Going to Need Medicaid," health economists David Grabowski, Jonathan Gruber and Vincent Mor report:
One third of people turning 65 will require nursing home care.
Three quarters of long-stay (not defined) nursing home residents eventually qualify for Medicaid coverage.
Two thirds of Medicaid spending "is focused on older and disabled adults — primarily through spending on long-term care services such as nursing homes."
The health economists from Harvard, MIT and Brown predict that a $1.4 trillion cut in Medicaid spending over 10 years will lead to suffering by seniors and the disabled and simply shift costs to other parts of government. With less federal reimbursements, the states will have to come up with more funding, deny eligibility, or cut corners. Two predictable effects are worse care and higher hospitalization rates:
Lowering Medicaid reimbursement rates leads to reductions in staffing, particularly of nurses. Research . . . shows that a cut in the reimbursement rate of around 10 percent leads to a functional decline of nursing home residents (that is, a decline in their ability to walk or use the bathroom by themselves) of almost 10 percent. It also raises the odds that they will be in persistent pain by 5 percent, and the odds of getting a bedsore by 2 percent.
. . .
Lower-quality nursing home care leads to more hospitalizations, and for Americans over 65, these are paid for by another government program, Medicare. . . . Research shows that a reduction in nursing home reimbursements of around 10 percent leads to a 5 percent rise in the odds that residents will be hospitalized. So care for seniors suffers, and the taxpayer pays.
While no one starting from scratch would devise the long-term care financing system that we have today, the reality is that it depends on Medicaid (MassHealth in Massachusetts). The drastic cuts proposed by Ryan, Trump; and, we can assume, McConnell, will have real consequences on real people and institutions that provide necessary care.
Related Articles: