Caring for others who are physically or mentally incapable of taking care of themselves is a daunting task. On top of the physical and emotional strain, making personal and health care decisions for another person in circumstances that you haven't discussed in advance compounds the burden.
Fortunately, clinical bioethicist Viki Kind has written a guide for caregivers called The Caregiver's Path to Compassionate Decision Making: Making Choices for Those Who Can't to help caregivers through decisions about where their loved ones will live, what care they will receive and when to end life support. It provides many examples and teaches the reader to communicate both with those with impaired communications skills and medical professionals (some of whom also have impaired communication skills).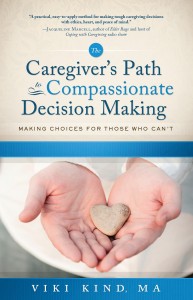 Chapters include:
The Decision Making Framework

The Shared Decision Making Model

Making the Medical Decisions

Making the Most Difficult Decisions at End of Life

When Our Hearts Get in the Way
While the book provides many tools and important guidance to caregivers, it has two main strengths: First, it's an easy read. Caregivers can pick it up and easily grasp the principals it conveys. And they can either read the book through at one sitting or pick it up as a reference when facing particular challenges.
Second, The Caregiver's Path is compassionate to the caregiver, recognizing that there's not just one path and many of the decisions caregivers must make have no single right answer. We all make mistakes, or would make a different decision if we had 20-20 foresight, but caregivers are doing the best they can at any given time.
Learn more or order the book at www.caregiverspath.com.
Related posts:
The Financial and Other Burdens of Family Caregiving Strike Home