In an article in The Boston Globe Magazine, attorney Carol R. Steinberg asks Boston and Massachusetts to get real about making their sidewalks and businesses accessible. Due to her multiple sclerosis, Steinberg must use a wheelchair to get around. Her family recently vacationed in Barcelona where she had no trouble navigating the streets and tourist destinations, in large part due to changes it put in place when it hosted the 1992 summer Olympics.
In contrast, in Massachusetts, Steinberg often finds the sidewalks and businesses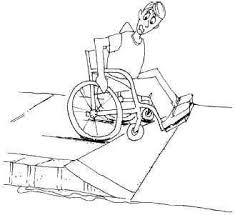 inaccessible to her. She recounts her family's recent plan to celebrate her husband's birthday at a particular restaurant. In making the reservations, her daughter was assured that the place was accessible. Steinberg called to check too to make absolutely sure. Yet when they arrived they discovered that the restaurant had a step she could not navigate. Showing little empathy and no responsibility, the restaurant gave them a $50 gift certificate and sent them on their way. They had to find another place for dinner.
Of course, this winter was a disaster for accessibility. Steinberg, who is president of the board of the Disability Law Center and has served on the Massachusetts Architectural Access Board, reports that she often found herself unable to cross streets after traversing a well-shoveled stretch of sidewalk. The corner would be blocked by snow. Access, of course, will become a bigger issue as the 76 million Baby Boomers get older and begin to suffer the limitations of age.
If Boston had won the 2024 Olympics, it would have been forced to become serious about accessibility. Now that we don't have that distraction, perhaps we can get serious about this vital issue on our own.
Click here to read Steinberg's entire article.
Related posts:
Little-Known Social Security Benefit for Parents of Disabled Children
Will the Funding of a Special Needs Trust Affect My SSDI or Section 8?
Who Should Serve as Professional Trustee of Special Needs Trust?