The Internet is not only a source of vital information, but also of useful tools. On her website, Joy Loverde, author of The Complete Eldercare Planner, offers a number of useful forms and checklists for anyone caring for a senior. Among others, these include: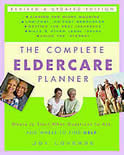 The Massachusetts Medical Society provides a downloadable health care proxy. While it does not have all of the bells and whistles on some health care proxies developed by attorneys, it is widely and almost recognized as the official form.
Many states have statutory durable power of attorney forms. Massachusetts does not. Two websites offer these as a free download, including:
While this lack many of the features we include in our own durable power of attorney forms, they are far superior to no durable power of attorney at all.
The ABA Commission on Law and Aging provides a number of downloadable tools, including a health care decisionmaking toolkit. One of its 10 forms, which I especially like, is a Proxy Quiz to make sure that the health care agent and the patient are on the same page about the health care wishes of the patient.
The Massachusetts Secretary of State provides a form for declaring a homestead declaration. If completed and recorded at the homeowner's registry of deeds, it will protect up to $500,000 of equity in the house from the claims of creditors. If two owners of the house are both over age 62 they can "stack" protection, each protecting $500,000 of equity so together they can protect $1 million from claims of creditors — assuming the house is worth that much,
Let us know if there are other forms we should add to this list by writing to rs@margolis.com. Let's share the tools.