Over 30 years ago, my father wrote a book titled Risking Old Age In America, which described the plight of seniors in the United States who faced severe income gaps, limited assistance for care at home, and deplorable nursing homes. A lot has changed since then, but many of the same challenges persist or have gotten worse.
With the advent of the assisted living industry, there's an alternative to nursing homes. Home care services have expanded as has government assistance to pay for home care. Nursing homes have improved, and seniors enter them later in life when they need more care, meaning fewer are institutionalized for year after year.
But as the 2017 article in The New Yorker, "How the Elderly Lose Their Rights," describes, the struggle for independence continues. The article describes a Nevada guardianship system run amok with private guardians and their lawyers seeking guardianship of seniors with the funds to pay them.
Economic Insecurity
As an article in The Washington Post, "The New Reality of Old Age in America," demonstrates, the income safety net for seniors is no stronger than it was three decades ago and has been further frayed by skyrocketing health care costs. The article describes two middle-class couples, one in their 60s and one in their 70s, who have become itinerant, living out of the RVs and traveling to places where they can find temporary work. Often this is to vacation areas where they serve other, more affluent seniors. Amazon actually has a Camperforce program that hires seniors and others to help with the crush of work during the holidays.
The picture of financially struggling seniors serving those who are better off reflects the increasing maldistribution of wealth across all age groups. The top 20 percent of Americans over 65 own virtually all of the funds socked away in retirement accounts, meaning that 8 out of 10 retirees have little or nothing in savings.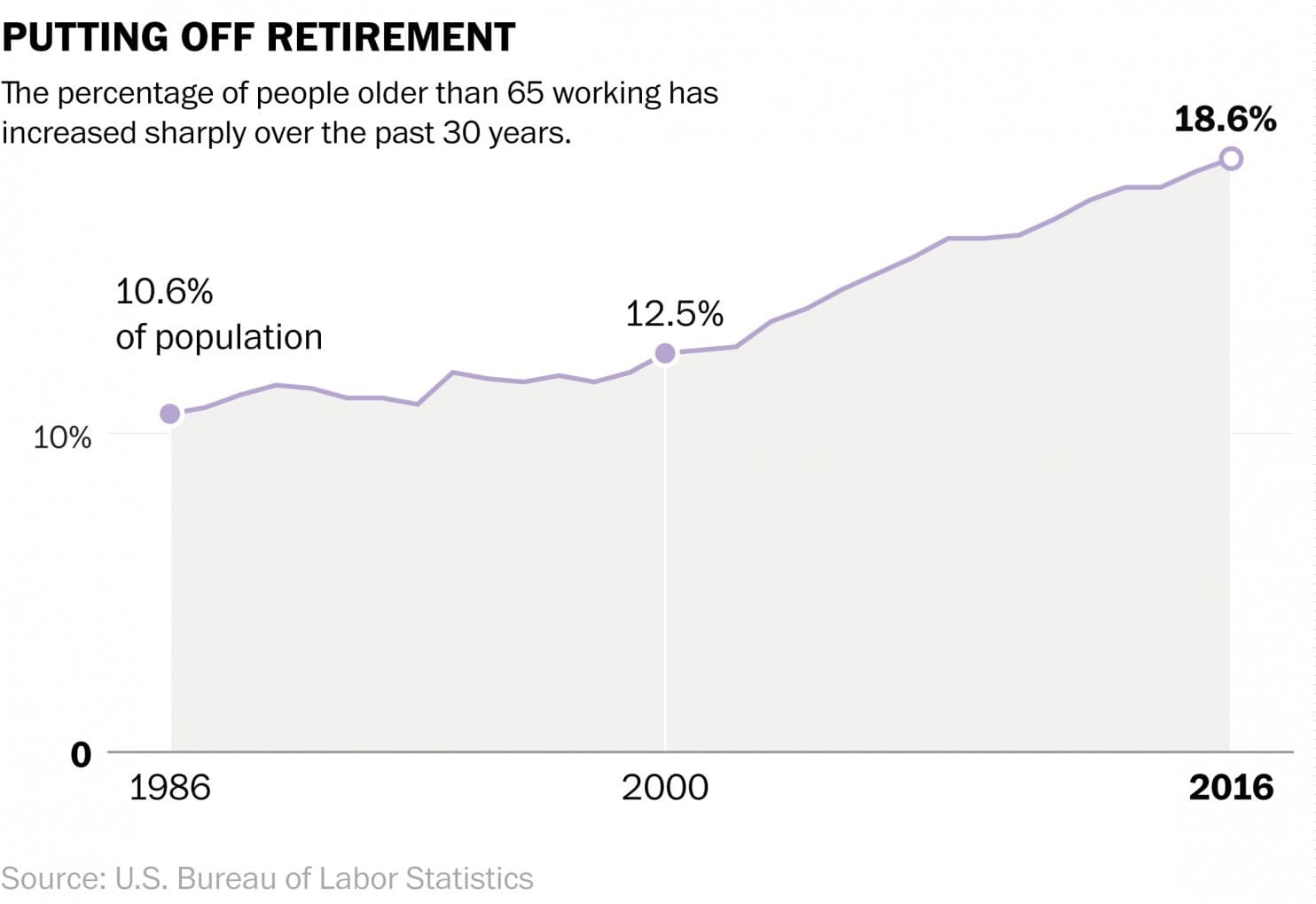 One result is that seniors are postponing retirement. In 2000, 12.5% of people over 65 were still working. Today, 18.6% remain in the workforce. Undoubtedly, more would continue to work if they could find jobs or were healthy enough to do so.
Baby Boomers
The financial prospects appear at least as bad for Baby Boomers, of whom there are 76 million between the ages of 53 and 71, almost a quarter of the US population. According to the Economic Policy Institute, among Americans aged between 50 and 55 in 2013, the top 20% of earners held 63% of retirement assets and the next quintile 23%, meaning that the other six out of ten younger Baby Boomers are left to share less than 20% of retirement assets. In the same year, the top 20% of families aged between 32 and 61, in terms of income, held almost three quarters of all retirement savings while half of American families had less than $5,000 in retirement savings.
These troubling numbers, in fact, reflect worse financial security for the majority of seniors and soon-to-be seniors than what existed 30 years ago, since many fewer Americans benefit from pension plans today than was the case back then. Since 1990, the percentage of private sectors jobs offering pensions dropped from 42 to 13. According to an article in Forbes, about 40% of Americans aged 55 to 64 in 2013 could anticipate receiving a pension. This includes most public employees, who make up 14% of the work force. For this older group of workers, the percentage is higher than it will be for those who follow because they will still receive some benefit from having worked for companies that once had pensions but have now phased them out in favor of 401(k) plans.
What Can We Do?
Given that we can anticipate very tight finances for most seniors in coming decades, what can we do as a nation and what can Baby Boomers do themselves to avoid widespread destitution? Here are some possibilities, a mix of individual action and public policy:
Work for as long as possible.
Adopt public policies and supports that permit seniors to keep working.
Postpone receiving Social Security benefits to age 70. Until that age, the longer you wait, the higher your benefit for life.
Force investment firms to lower costs they charge on 401(k) plans and make sure that they meet minimum requirements in terms of reasonably wise investments.
In that regard, put back in place the Obama rule that investment advisors must put the client's interest first.
Raise Social Security benefits for lower-income seniors.
Lower health care costs.
These could be a start, but we need a national discussion on these issues.
Related Articles: