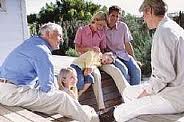 Extended families living together was once common, and it's a new trend as well.  According to the Pew Research Center in Washington, D.C., 49 million Americans, 16% of the U.S. population, live in households with at least two adult generations.  This number grew 17% during the great recession and hasn't stopped. The number of Americans living in extended families increased from 58 million in 2001 to 85 million in 2014.
A lot of factors can influence the decision to move together, including the need for child care or for elder care and loss of jobs leading to the need to share expenses. While many families were forced to move in together for financial reasons during the recession, the classic picture today is of millennials moving back home after college.
Think Through Future Possibilities
In most cases, these arrangements work out well for all concerned.  But in many, it leads to undue strife, especially when it turns out that expectations were not the same going in to the shared living arrangement. This can be especially true when children move home to care for aging parents, both generations buy a new house together, or the parents move in with their adult children. It can be difficult for the generations to live together and often no one anticipates the amount of care required if a parent begins to decline physically, mentally or both.
Families need to make sure that they are on the same page as to who is going to pay what expenses, how much care — whether for grandchildren or for elders– is going to be provided, and what are the current and future plans for ownership of the property.  
Put It In Writing
Then these decisions need to be put down in writing.  Writing the terms down helps make certain that everyone is on the same page and it often raises issues that would be ignored otherwise.  Also, it helps years later when people forget the original arrangement.
In many cases, families can prepare such a written agreement themselves.  But in many instances the assistance of an attorney will help resolve issues and make sure that the agreement is comprehensive.  An attorney's involvement is especially important if the agreement includes any change in ownership of real estate.
Margolis & Bloom partner Jeffrey A. Bloom is quoted in an article on this topic in a recent issue of The Wall Street Journal. 
Click here to read the article.