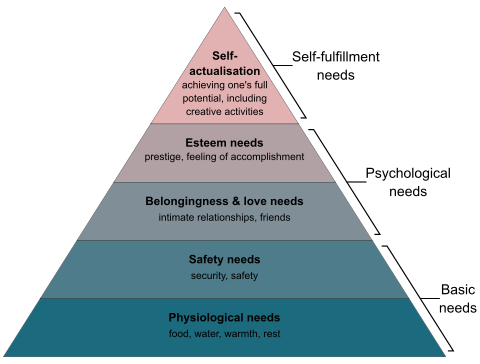 Taking a page from psychologist Abraham Maslow, who created the hierarchy of human needs above, the New York Life Insurance Company has created a new chart demonstrating the hierarchy of financial needs. It places estate planning at the very top of its pyramid, implying that it's unnecessary until you've satisfied your needs for retirement or earlier financial independence. This demonstrates an unfortunate lack of understanding of the role of estate planning.
Here's how New York ranks financial needs:
Cash flow and basic needs. Just making sure you have enough income to pay your rent and daily expenses, including food.
Financial safety. Having enough in savings to cover your expenses in the event of a job loss or illness. This can also include insurance both to cover health and disability expenses and life insurance to be able to take care of your family. New York Life estimates that less than half of Americans have this in place.

Wealth accumulation.

Only when you have the first two needs met can you begin to save money for retirement and future needs or desires.
Financial freedom. This really involves retirement planning, making sure that at some point you will have sufficient funds to live as you wish when you're no longer working, whether you achieve that goal sooner or later. According to New York Life, only 29% of Americans over age 50 feel they're adequately prepared for retirement.
Legacy. Finally, according to New York Life, when you've met or planned for all the above goals, can you begin thinking about estate planning.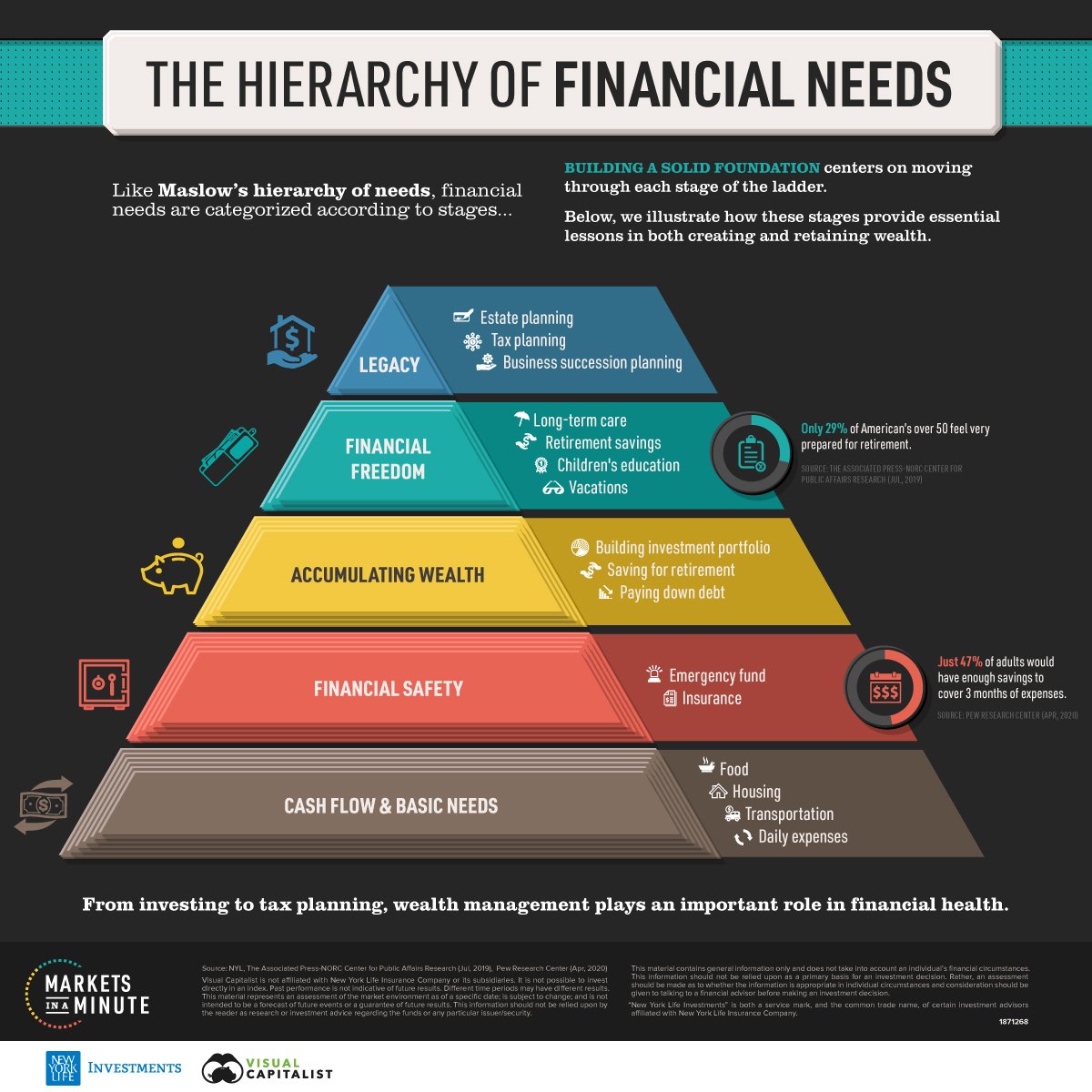 Putting Estate Planning in its Proper Place
While I think in general this schematic makes sense, I would place estate planning closer to the base of the pyramid, perhaps because it's not just about finances. Providing for your own financial management through a durable power of attorney, and for your health care decision-making through a health care proxy both fall within the categories of Basic Needs and Financial Safety, as does the appointment of a guardian for your minor children.
If you have a child with special needs or one who cannot manage finances due to an addiction or for other reasons, creating a trust is paramount to his financial safety. If you own a business, providing for how it will continue to operate in your absence can make the difference as to whether it continues for your family's future or falls apart upon your incapacity or death.
Estate planning is not a step that anyone should put off until they've provided for all their other financial needs. We all need at least a basic plan to ensure our and our family's financial safety.
Of course, New York Life places estate planning under "Legacy," which is probably not a topic most of us think much about. Perhaps in that context it has in mind funding a professorship at Harvard, a financial "need" that may well be placed at the top of the pyramid. But for most of us, our legacy is our family. Planning for them can help them better achieve their goals in life and help make sure that they stick together as a family rather than split up in acrimony over a disagreement about your estate.
Related Articles: