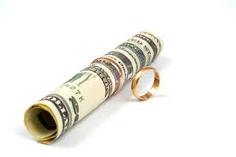 By Harry S. Margolis
My client's wife, a retired attorney and business owner, unfortunately suffers from Alzheimer's disease. He visits her almost every day in the special assisted living dementia unit where she lives.
At the same time, my client is living with another woman who he met after his wife moved to the assisted living facility. He wants to know about Medicaid planning for his wife and estate planning that takes his new relationship into account.
Fewer "Traditional" Relationships
This is just one example of the new family relationships that are replacing life-long monogamy. More than half of children today are born out of wedlock. People of all ages live together without marriage. More than half of marriages end up in divorce and most divorcees, especially men, get remarried. Same sex marriages are now permitted nationwide.

As a result, traditional cookie-cutter estate plans and state intestacy statutes that govern the distribution of estates for those without wills and trusts will not work for more and more people.
For instance, in the case of my client, how does he provide for his new lady friend and his wife should he die before his wife? In the more likely event that his wife dies first, how does he provide for his new partner as well as his children and grandchildren from his marriage? If he then marries the new woman, how does he make sure that he doesn't become responsible for paying for her long-term care as well as his wife's?
Put It In Writing
The answer is a carefully crafted estate plan as well as a prenuptial agreement with his second wife. This may have to be negotiated with the new wife. And it may save misunderstandings down the road if the agreement is shared with children from both sides of the new relationship.
Even where two new partners are not getting married, it's important to discuss these issues when everyone is healthy and competent. Issues include care in the event of illness, the ability to live in the home after the owner or part-owner passes away or must move to a nursing home, payment of long-term care expenses, and the ultimate division of assets.
Even where both parties think they are in total agreement, the act of writing down the terms of their understanding is indispensable. First, it may show areas of disagreement or different expectations or understandings that need to be resolved. Second, invariably it will bring up new topics that need to be discussed. Third, it will be a reference that the partners can look at in the future rather than trusting their memories. Fourth, it will be evidence for other family members of what the parents or grandparents agreed to which should help avoid misunderstandings and unrealistic expectations. It can act as a road map in case one or both parties becomes incapacitated.
This written agreement can be prepared by the partners themselves, with the help of an attorney, or with the cooperation of other family members. Whichever route members of the new relationship take, now is the time to get started.