For those of us in Massachusetts who expect our state to score high in every state-to-state competition, the recent US News & World Report ranking of the best states for aging is a disappointment. In a ranking that doesn't even take into account our winter weather, we rank 27th out of 50 states.
Factors in the ranking of the best states for aging
The ranking takes into account several factors, including the quality of nursing homes and medical care, life expectancy, and the cost of living. We score well on life expectancy (12th), Medicare quality (4th), percentage of seniors who are able-bodied (15th), and primary care (6th).
But we score poorly on cost of care (47th), mental distress (30th), physical activity (32nd), and cost of living (43rd). Perhaps the cost of care and overall living expenses adds to the our mental distress. And our winters may impinge on our physical activity.
Interestingly, our New England neighbors rank much more highly than us, with Maine leading the pack as the best state to grow old in. Vermont ranks 6th, New Hampshire 8th, Connecticut 9th, and Rhode Island 14th.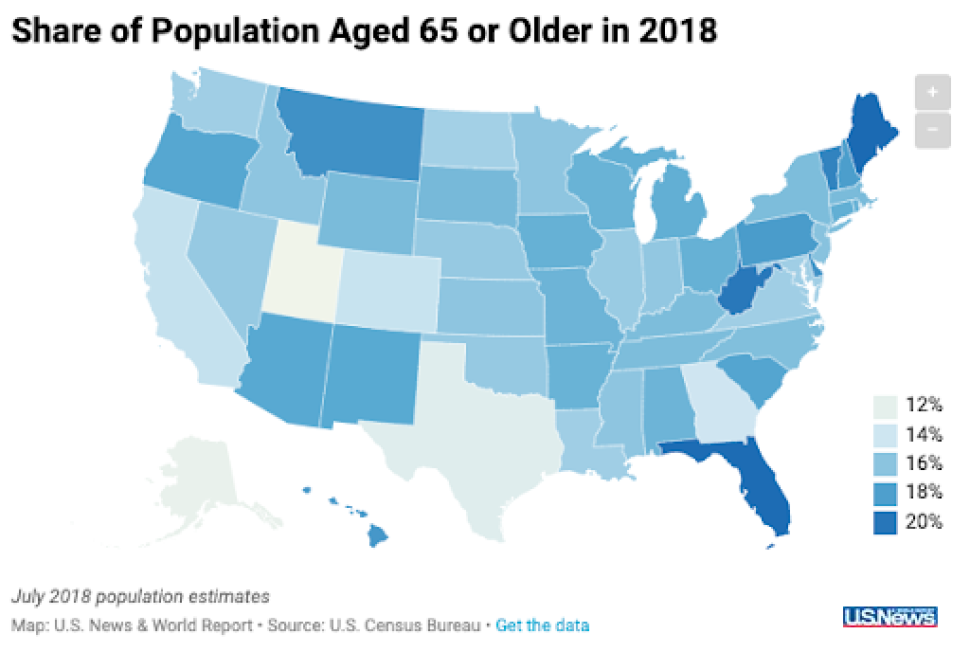 They're all much older than Massachusetts as well, with Massachusetts having the 25th highest percentage of residents 65 years of age and older. Maine has the highest percentage nationally, Vermont the 4th, New Hampshire the 9th, Rhode Island the 14th and Connecticut the 15th. Undoubtedly, our lower percentage of older residents reflects our more dynamic economy that's brings more younger people to the state.
These states are harbingers of demographic change to come as more Baby Boomers pass age 65 and younger Americans continue to have fewer babies. The 65-and-over population is expected to outnumber those 18 and below by the year 2035. Both immigration policies and those that help younger families afford to have children could either ameliorate or exacerbate this trend.