A recent article in The Washington Post about an increase in Medicare spending on hospice care highlights many of the challenges our health care system faces in its effort to trim costs and provide better care. It describes how hospice spending by Medicare has skyrocketed from $2.9 billion in 2000 to $15.1 billion in 2012. At the same time, an increasing number of for-profit companies are getting into the business and more and more patients are "graduating" from hospice.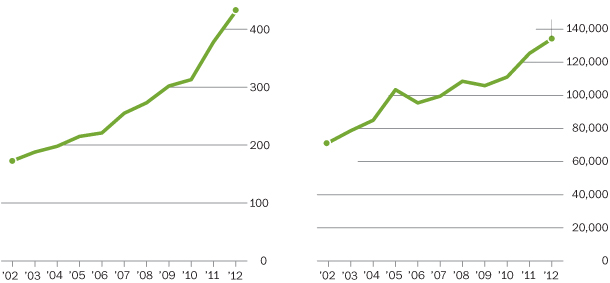 (The chart on the right shows the increase in the number of hospice providers and patients in California over the last decade.)
Medicare pays for hospice care for beneficiaries who are certified to be terminally ill and have less than six months to live. It switches the focus of treatment from curing an illness to providing comfort or "palliative" care. As many have commented (including me), a huge part of our nation's medical costs can be attributed to fruitless efforts to save patients in their last months of life. Hospice care is designed to accept the realities of death and to provide assistance in this last stage of life to both patients and their families.
The reality is that some patients who receive less aggressive treatment actually fare better and many do not pass away within six month as was predicted. If they regain their health, they may be discharged from hospice all together. But now, about 60% of Medicare hospice payments are made for patients who ultimately leave hospice care.
The Post article charges that something more insidious is going on. In 2000, 70% of hospice providers were non-profits. Today only 40% are non-profits and the percentage of for-profit hospice providers has doubled from 30% to 60%. At the same time, both the length of stay for patients and profit margins have increased dramatically, with average lengths of hospice care increasing from about six weeks to 11 weeks from 2002 to 2012 and average profits (in California) per patient increasing from $353 to $1,975 during the same period. The average length of hospice care by non-profit hospice providers is 69 days and the average length by for-profit providers is 102 days.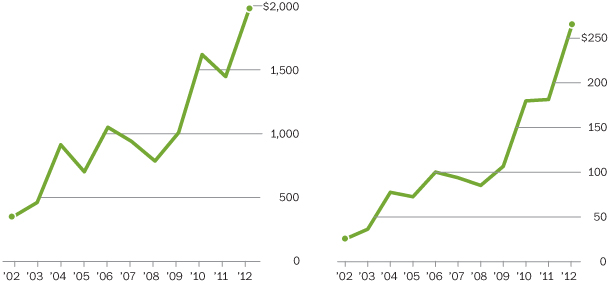 (These charts show the increase in profits over the last decade for California hospice providers, the one on the left showing per patient profits and the one on the right showing total profits in millions of dollars.)
According to The Post, for-profit providers seek the healthiest patients who are more likely to receive care over a longer period of time and less likely to pass away. These patients are more profitable because the highest expenses for hospice providers come during the intake process and around the patient's death. Care in between these times is profitable, so the longer time care is provided, the more profitable the patient will be.
Of course, there's another side to this story. Hospice care may be much more benign for both the patient and the family. It may only be a fraction of the cost of the alternative of care aimed at curing the patient. The increase in the number of patients and the amount of time patients are being cared for may simply mean that more patients are receiving better care. If the providers are making a profit by providing excellent care, isn't that the American system? Why should we begrudge them what they have earned?
On the other hand, these increased numbers may mean that the diagnoses of terminal illness are being influenced by potential profits. Perhaps many of these patients would do fine without the intensive care provided by hospice.
The problem with a health care system based on free enterprise with the costs paid by insurers rather than by consumers directly is that it's not really free enterprise. When you go out to purchase a new flat screen TV, the manufacturers are competing on price, quality and marketing. When you're looking for medical care, price is no longer a factor since it's being covered by Medicare. It can also be extremely difficult to compare quality among providers or they may be no more than one provider available, which leaves the patient and his or her family making decisions based largely on marketing.
Medicare must seek to improve the quality of care and lower the costs through its regulations and incentives to providers. But it can be difficult to make everything line up just right or even know how it's working, as The Post article illustrates.