The future of most members of the Baby Boomer generation portends poorly. They have not escaped the income and wealth inequality experienced by the rest of the U.S. population and, as a result, most will have insufficient resources to fund their later years, especially if they fall ill.
According to a study released in 2019 by Harvard's Joint Center for Housing Studies, the annual income the top 10% of earners over 65 has grown 55% in constant dollars over the last 30 years. That of the bottom 10% has grown 11%. The income of the median senior in the United States has grown 40% over the same period of time $31,000 to $41,000 a year (in constant 2017 dollars)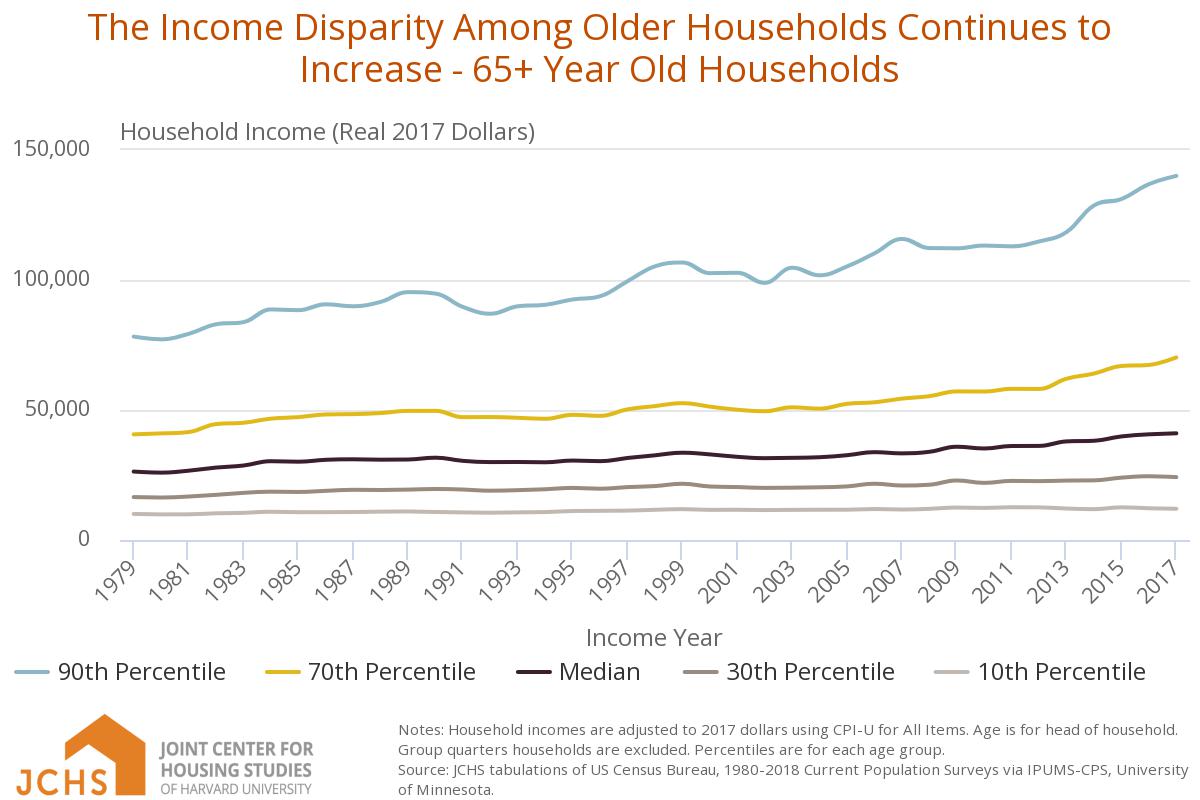 Of course, wealth follows income and those who have earned more also have greater resources. Many Baby Boomers were especially hard hit during the Great Recession, losing jobs during what should have been their highest earning years and digging into savings and home equity that should have been available for their retirements. Those with greater income and resources were less affected.
Growth of Older Population to Exacerbate Problem
This lack of resources will create a great challenge for the nation as Baby Boomers age. According to the Joint Center's report, households between the ages of 75 and 79 will grow almost 50% over the next 10 years and those 80 and over by 48%. Households of seniors aged 80 and over will more than double from 8.1 million today to 17.5 million in 2038. If all but a small minority can't afford to pay for their inevitable care needs, who will?
But Some States are Doing Better Than Others
According to an article in US News and World Report, some states are doing a better job of planning for this change than others. Often those that taking more of an initiative are rural states that are already facing higher elderly populations as younger residents move to the cities. Despite its winters, US News ranked Maine, where already more than one in five residents is over the age of 65, as the top state in which to grow old. Others in the top five were Wisconsin, Minnesota, Colorado, and Hawaii.
Factors in the US News rating included life expectancy, health, physical activity, levels of mental distress, employment, cost of living, and nursing home ratings. New England, in general, did well, with Vermont, New Hampshire, and Connecticut joining Maine among the top 10 states. Rhode Island was close behind, ranked 14th, with Massachusetts trailing at 27th place.
The states and the federal government are going to have to do a lot more to prepare for an aging population made up in large part of Baby Boomers with insufficient resources to pay for their own care. Oddly, this is not a topic heard on the presidential campaign trail.
Read more about baby boomers in Harry's book, Get Your Ducks in a Row: The Baby Boomers Guide to Estate Planning.
Related Articles: