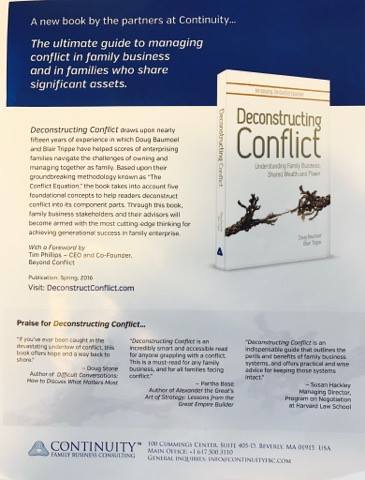 There is the old myth of "shirtsleeves to shirtsleeves in three generations" for family owned and operated enterprises. The real truth is most family businesses that fail do so because they don't plan ahead, or they don't handle conflict well.
Blair Trippe, Managing Partner of Continuity Family Business Consulting and co-author of Deconstructing Conflict: Understanding Family Business, Shared Wealth and Power, visited Margolis & Bloom on Monday, March 6th, as part of our monthly First Monday Lunch for Professionals series to discuss understanding and managing conflict in family business situations.
There is a high level of interdependence within family business structures.  Conflict, whether dealt with aggressively or passively, can hinder a business in many ways including:
Damaging relationships 
Compromising judgement
Disrupting the ability to properly assess risk
Paralyzing planning 
Mediation can play a crucial role, not only in resolving conflict, but also in providing a long-term view of understanding the underlying factors of conflict and how to manage them. Family business units that have a shared history, vision, and trust, have a better chance of resolving their conflict and finding solutions to their issues.
The audience for our First Monday Lunch, a mix of wealth management and legal professionals, as well as clients, appreciated Blair's knowledge and advice.  For more in-depth analysis and insight you can purchase Blair's book at Amazon.
If you are interested in attending one of our future First Monday Lunch for Professional events please visit.