It's hardly news that with more than 10,000 baby boomers turning 65 every day that we have a looming long-term care crisis — not this year, or even this decade, but beginning in about 20 years when the leading edge of the baby boomer generation begins turning 85. So far, as a nation our efforts to deal with current needs for long-term care are a mishmash of public and private half solutions.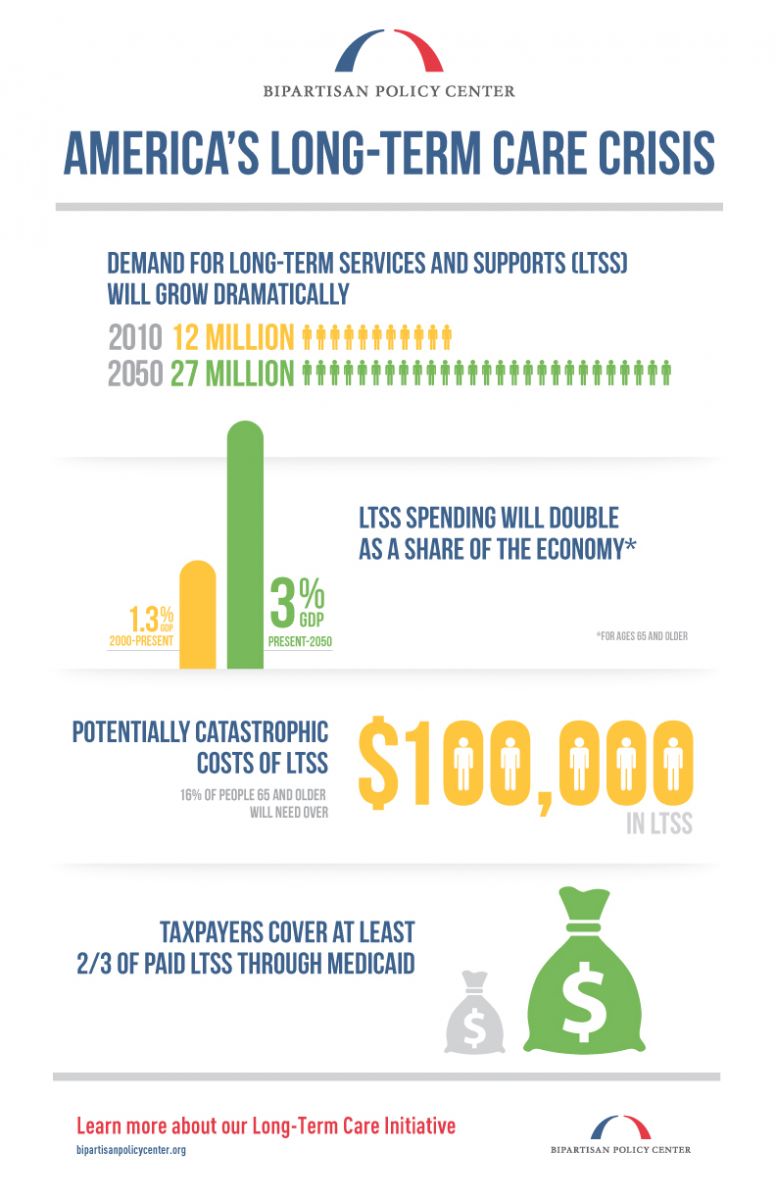 Private industry has responded by building an assortment of assisted living and continuing care retirement communities, augmented by the burgeoning growth of companies offering in-home services. Long-term care insurance offers a funding safety net for those who can afford it. Medicaid continues to be the primary payment source for nursing home care and many states are using it to expand coverage for home health and assisted living care. The result is a patchwork system that is extremely difficult for families to navigate (meaning more work for elder law attorneys and geriatric care managers).
Clearly, we don't have a system built to accommodate the 77-million strong baby boomer generation — those born between 1946 and 1964 — currently aged 50 to 68. Last year, Congress appointed a Commission on Long-Term Care that issued a report on September 30, 2013, describing the current state of Long Term Care Services & Support (LTSS) and a series of recommendations for improving both the quality and availability of LTSS, along with a lengthy appendix of additional ideas proposed by various members of the Commission. Nine of the 15 commissioners voted in favor of the report and recommendations and six voted against it. (It's not clear whether their no vote was in favor of many of the proposals listed in the appendix.) We will have to wait to see whether this report has any impact on our gridlocked Congress or simply accumulates dust.
The Bipartisan Policy Center (BPC) has now also jumped into this fray with an initiative led by former Senate Majority Leaders Tom Daschle and Bill Frist, former head of the Congressional Budget Office Alice Rivlin, and former Wisconsin Governor and Secretary of Health and Human Services Tommy Thompson. They have issued a white paper describing the LTSS challenge and plan to issue policy recommendations before the end of the year. Here are a few of their findings:
The number of Americans needing LTSS will increase from 12 million today to 27 million in 2050.
Medicaid spending on LTSS will increase by 6 percent per year until 2021 when the rate of growth will accelerate.
Spending on LTSS will increase from 1.3 percent of GDP to 3 percent in 2050.
70 percent of Americans who reach age 65 will need some LTSS during their lives.
However, 42 percent of them will have to spend nothing on LTSS care and another 30 percent will have to spend less than $25,000.
In 2005, only a third of Americans over age 65 had more than $70,000 in assets (in addition to their home).
In 2009, almost 66 million Americans (a third of the population) provided unpaid care to family members and friends.
Public spending for LTSS exceeds $100 billion a year.
Private long-term care insurance pays about $7 billion a year towards LTSS.
The report acknowledges both the view of some people (myself included) that the best solution would be a broad social insurance program for LTSS as well as the political reality that this would be impossible to enact today (perhaps the same is true of single-payer health care which is why we ended up with the Affordable Care Act). It also favors changing the institutional bias of Medicaid which covers nursing home care much more easily than home-based or assisted living care.
The BPC initiative states that while private long-term care insurance "as currently structured" is not a major player in terms of paying for LTSS — covering less than 5 percent of costs nationally — with some reforms it can be part of a long-term solution.
I find the BPC's paper easier to read, more down-to-earth and less bureaucratic than the Long-Term Care Commission's long report. It will be interesting to read their proposal when it is released later this year.