A few years ago, Richard Susskind, a British legal scholar, wrote a book called The End of Lawyers? He compared lawyering to making suits. Hundreds of years ago, all suits were made by hand. Now, most suits are mass produced. You can buy a suit off the rack, or get one tailored to better fit your particular dimension, or still — for a price — buy handmade suit.
In England, such handmade suits are called "bespoke." Click here to read an excerpt from a book about one of London's leading bespoke tailors co-written by Cullen Murphy, a friend and an editor a Vanity Fair.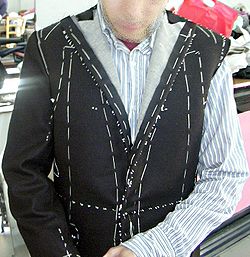 Back to Susskind. He argues that up until recently, most lawyering was bespoke or handmade, but that is changing rapidly due to computers and the Internet. Traditionally, clients would meet with attorneys who would develop a unique solution for each client, whether that was a particular trust, a brief for litigation, or a business contract.
Certainly, attorneys relied on prior work and forms to be more efficient, often "cutting and pasting" parts of old documents together to create new ones. But, in general, lawyering has been a relatively inefficient, time-consuming process. It's also been expensive, in part because it's been practiced by highly-trained and experienced professionals and partly because lawyers participate in a guild. They have been able to block non-lawyers from practicing law and, at least until recently, to limit the number of people becoming lawyers.
The almost universal system of billing by the hour encourages and rewards this type of lawyering and discourages efforts to increase efficiency. The more time it takes to complete a project, the more the attorney will be paid. Clients have never been happy with this arrangement. Fixed fees, or fees that are tied to results achieved, make more sense in cases that are more predictable, but can be unfair to attorneys in situations where they cannot control the amount of work involved in a matter.
But, as Susskind suggests, all of this is changing. Law schools are graduating record numbers of new lawyers, many of whom start their professional careers with huge debts and low job prospects. LegalZoom and other websites are offering do-it-yourself legal solutions at a small fraction of the price of hiring a lawyer. This might be considered off-the rack lawyering. Clients are demanding fixed or adjustable fees.
Some attorneys are also offering more limited services, perhaps advising a couple about what forms they need and the process of getting a divorce, without actually representing them in court. Or they combine on-line forms with legal counselling. Sticking with the clothing metaphor, these approaches are akin to buying the suit off-the-rack and having it tailored to fit the particular client's needs.
Many attorneys continue to provide bespoke services tailored to each client's needs, but do as much as possible to automate and systematize services within the office to increase efficiency and hold the lid on fees. This is our firm's approach. We also charge flat fees in most cases, which allows clients in advance to decide whether the results sought justify the fee we charge. Flat fees also mean that we will be rewarded if we are efficient in our work and penalized if we are inefficient.
In short, the world of lawyering is in the midst of a great transformation. Clients will be able to choose among DIY on-line programs, traditional one-on-one handcrafted solutions, and limited representation arrangements that permit clients to do most of the work themselves, with counseling by an experienced attorney.
Law firms will have to decide which approach works best for them or best fits the type of work they want to do. They could try to offer clients a variety of options, but that can get complicated. We will probably stick with the more traditional one-on-one approach, while internally doing everything we can to be more efficient. This may include fewer in-person meetings and more use of Skype and other systems of communicating on-line to make the process more efficient for our clients and ourselves. We charge flat fees in most cases, so it is in our interest to be as efficient as possible.