Scams are getting more sophisticated, making them easier to fall for. My recent experience is a case in point. I received the following email purportedly from Amazon reporting on the delivery of an iPad from my account to a woman in Austin, Texas, who I had never heard of.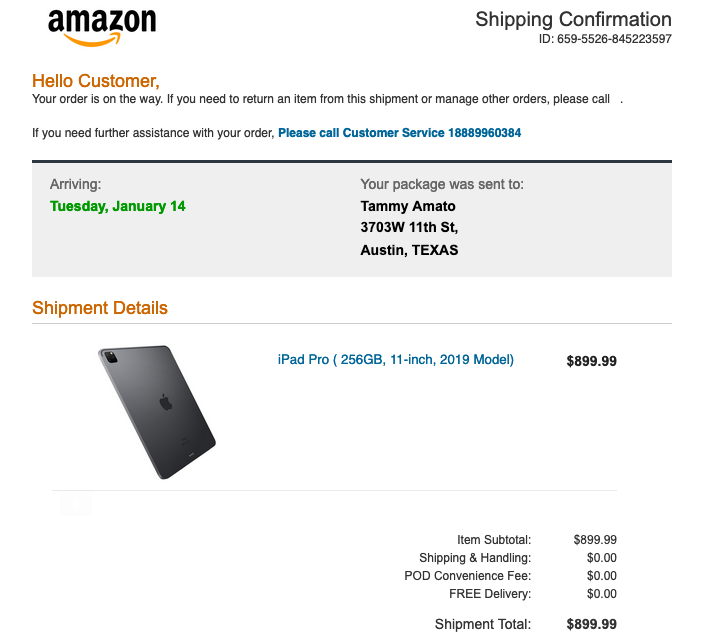 It looks authentic, doesn't it?
The Call
So I called the customer service number on the email to see what this was all about. The woman who answered had an Indian accent, which I felt was reassuring, meaning that I had reached a real call-service center. I was somewhat concerned about whether this was real because I hadn't taken any steps to ascertain whether the number I called was truly an Amazon number. But at first, the customer service woman's responses were all appropriate. She also seemed to know a lot about me, both where I live and the last four digits of a credit card that had just been replaced.
But then things changed. She kept putting me on hold to speak with their "security team" and ultimately asked me to go to a local store to buy some sort of security card. I objected, saying that this is Amazon whose business model is based completely on the lack of the need to go to a brick and mortar store. She insisted, I refused. She hung up.
So this scam not only started by sending an authentic-looking email, but listed where I live and the last four digits of a credit card I recently owned. That's sophisticated and scary. One can easily imagine falling victim to it.
What Steve Says
I checked with Steve Weisman, who is Of Counsel to our firm, author of Identity Theft Alert and The Truth About Avoiding Scams, and maintains the website www.scamicide.com. This Amazon scam was nothing new to him:
The scam can take many forms. In the most common form, Amazon has not sent you a shipping confirmation but rather it is a counterfeit shipping confirmation sent to you in order to lure you into calling them and providing them with your account information or other personal information that can be used to make you a victim of identity theft. If you did provide your Amazon account information to the scammer, you should contact Amazon to let them know to cancel your account and open a new one.
In another variation of the scam, someone actually has hacked into your account and made a purchase, in which case you should again contact Amazon and have them cancel the order, close your account, and open a new Amazon account.
Keep Your Guard Up
According to the FBI, the cost of internet crime to Americans shot up from $1.4 billion in 2017 to $2.7 billion in 2018 and $3.5 billion in 2019. We're all potential victims of these scams and must stay alert. We also must protect our loved ones. Seniors are often both targets and victims of scams. They tend to have more money, may be less familiar with modern technology, and are often both more isolated and trusting than younger folk.
Related posts:
Cybersecurity is a Real Threat – What you Need to Know
Protect Your Assets from Scams and Identity Theft