We had the privilege of Juergen Bludau, MD, speaking at our Lunch for Professionals on November 7th, addressing some of the reasons seniors in the United States do not get the health care they need and deserve.  To summarize, his main point is that doctors in the US are trained and incentivized through the Medicare reiumbrusement system to treat illnesses rather than patients.
This is compounded by the lack of sufficient geriatricians, meaning that despite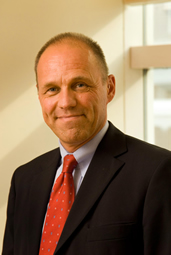 the fact that a great deal of American medicine treats people 65 and older, few doctors are actually trained to treat this age group.  In addition, Dr. Bludau explained, while most 45-year-olds are similar in their overall health, aging and illnesses affect different seniors differently, so 85-year-olds span the spectrum in terms of health, energy, mobility and cognitive ability.
The result is that many patients are over-medicated as they receive prescriptions for each ailment, with little regard to the fact that a dosage appropriate for an individual age 45 may be inappropriate for one age 85 or to the interactions between the various drugs.
Dr. Bludau related the story of one of his patients who had diabetes, depression, weight gain, and declining mobility.  She rarely left her apartment other than for doctors appointments.  Her devoted daughter did the shopping for her.  And she took a slew of medications.
Dr. Bludau's advice: Get out of the apartment and start moving around.  Her daughter should take her shopping, even if that takes more time.  This would combat the weight gain, improve her mobility and spirits, and allow her to get off of the diabetes medication, since the worsening of her kidney function was directly linked to her weight gain.  Further, blood levels that are appropriate for a 45-year-old exceed what is necessary for a senior.
Dr. Bludau, Director of geriatric services at Brigham and Women's Hospital, explains these issues and much more in his new book, Aging, But Never Old: The Realities, Myths, and Misrepresentations of the Anti-Aging Movement.