Adult Foster Care (a/k/a Adult Family Care), or AFC, is a MassHealth program that can help you with the caregiving of your disabled loved one. It is available to anyone age 16 or over who is on MassHealth or CommonHealth.AFC adults live with trained paid caregivers who provide daily care. The caregiver provides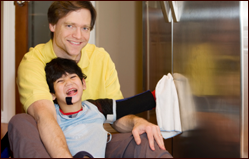 meals, companionship, personal care assistance, and 24-hour support. The caregiver must live with the AFC recipient, and effectively functions as their parent. Importantly, a parent can serve as the AFC caregiver for their own child, so long as that parent is not also serving as the child's court-appointed guardian.
Eligibility
The caregiver receives a tax-free stipend from MassHealth of about $9,000 a year per person for Level I care (needs assistance with one or more ADL skills), and about $19,000 a year for Level II care (needs assistance three or more ADLs, or two ADLs plus a behavioral element).
The activities of daily living (ADLs) are:
Eating
Bathing
Dressing
Toileting
Ambulating
Transferring
Level II is for people who need assistance with three or more ADLs; or two or more ADLs, plus caregiver intervention for one or more of these behaviors: wandering, resisting care, being physically or verbally abusive, or displaying socially inappropriate or disruptive behavior.
Services
Among other things, the AFC caregiver will be responsible for the following:
prepare meals and snacks
assist with personal care
provide behavior interventions as needed
provide medication reminders and assistance
do shopping, laundry, and housekeeping
provide transportation to medical appointments and social visits
maintain a clean safe living space
keep a caregiver log
In addition to the financial stipend, the caregiver will receive support and training, home visits by social workers and registered nurses, and respite help (up to 14 days per year).
AFC is provided by local service providers, rather than by MassHealth itself. In order to find out if your loved one qualifies for AFC, contact your local provider (see HERE for a list of providers) and they will come to your home to do an assessment.
For legal assistance in connection with Adult Foster Care, contact Karen B. Mariscal.