In A Bittersweet Season: Caring for Our Aging Parents — and Ourselves,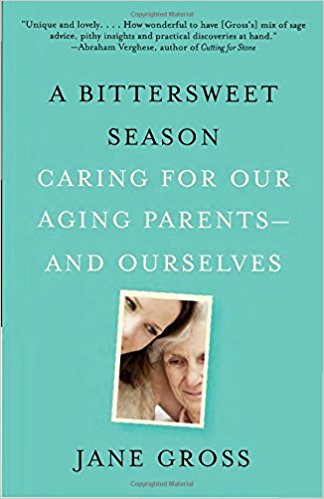 Jane Gross, a former New York Times reporter, writes a page-turner about how it feels to take care of an aging parent, while providing very valuable information about elder care. The journey begins when Gross's mother, a long-time widow in her mid-80s, becomes too frail to live alone in Florida. Gross recognizes it's time for her mother to undertake a "reverse migration" back to New York City to be near her and her brother. 
But Gross was completely unprepared for the crises that followed when she enrolled her mother in an assisted-living facility: the pleading phone calls, the too-numerous late-night emergency-room visits (due not to true emergencies but to bureaucratic regulations), and the medical tests that stretched into all-day ordeals while Gross was trying to hold down a full-time job.  Many of the problems could have been prevented had Gross understood the system, and she describes her mistakes in detail, with honesty and humility.
She also describes the family dynamics. While she and her brother mostly worked well together, there were times when she felt that she was spending untold hours caring for her mother, while her brother would waltz in on visits showering good cheer and then return to his daily life. Their mother delighted in his visits and continually complained to Gross about her situation in the assisted living facility. In the end, Gross came to accept that she and her brother brought different skills to the effort, and that her resentment over her brother's more easy-going attitude wasn't helping anyone.
Only three years after she moved back from Florida, Gross's mother passed away at age 88.  In that short amount of time, her mother had spent down her nest egg of $500,000, and enrolled in Medicaid.  Her health deteriorated fast, but not fast enough to avoid a difficult end.  This book is not for the faint of heart, but it certainly opened my eyes to what caregivers of the elderly go though, and what we ourselves may experience, should we be live that long.
This story will be a familiar one ot many of our clients. Gross provides much guidance, but the sharing of her travails may prove of more comfort to her readers.