By Harry S. Margolis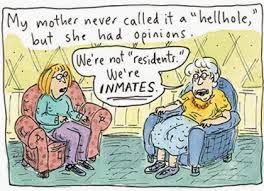 The Boston Globe has reported on a New York father and son who have been buying up nursing homes in Massachusetts and then, apparently, cutting costs to such an extent that patient care has suffered. According to an article, "Owners profited as complaints rose." Larry Lipschutz owned a development in Belleville, New Jersey—Branch Brook Gardens—that he ran into the ground with about 1,400 code violations in a March 2004 inspection. His failure to respond to the violations ultimately led to his criminal conviction and fines.Lipschutz's son and a colleague hold the operating licenses for the 11 nursing homes bought since 2012. They are apparently big New England Patriots fans. According to The Globe, two former employees report that a month after buying their first facility, their company, Synergy Health Systems, spent about $25,000 on a suite at Gillette Stadium, inviting local doctors and nurses as marketing for the nursing home. In subsequent months, according to a volunteer state ombudsperson, they cut back on the quality of adult diapers and fresh fruit.
Since 2012, Synergy has spent $68.5 million purchasing 10 of the nursing homes (it leases one) and has taken on $99 million in mortgages and loans. Here's a list of the Synergy nursing homes followed by their U.S. News & World Report rating on a scale of 1 (worst) to 5 (best) and their year of purchase:
Brockton Health Center, Brockton, 2, 2014
Grosvenor Park Health Center, Salem, 5, 2015
Merrimack Valley Health Center, Amesbury, 2, 2014
New England Health Center, Sunderland, 1, 2012
Waban Health Center, Newton, 2, 2014
West Revere Health Center, Revere, 3, 2015
Woodbriar Health Center, Wilmington, 4, 2015
Worcester Health Center, Worcester, 2, 2014
As you can see, Synergy purchased one facility in both 2012 and 2013 and then accelerated its buying spree, scooping up six in 2014 and four more in 2015.
We, of course, have no direct knowledge about the care provided in these facilities. But based on The Globe article, it seems to make sense to be careful before placing a loved one in any of them and to provide extra oversight if someone you know is already residing in one. In terms of the ratings, of the two, Grosvenor Park and Park Avenue get top scores, Grosvenor Park was Synergy's most recent purchase in July 2015, so we'll have to see how it fares under its new ownership. Park Avenue was purchased a year earlier, so it seems to have maintained a high rating despite its new ownership.
Author's Note: In response to this post, the Chief Executive of Synergy Health, informed me that at the beginning of 2017, they hired Next Step Healthcare to manage its facilities. Here's an article about the hiring. In addition, the 1 to 5 ratings for the facilities above were for 2015. It is possible that they are different when this is read and should be checked to see if they have improved or deteriorated.
Update: Since then, Synergy has filed for bankruptcy and closed or sold all of its nursing homes.
Related Article:
Synergy Health Centers closing nursing homes amid mounting bills, patient injuries and deaths