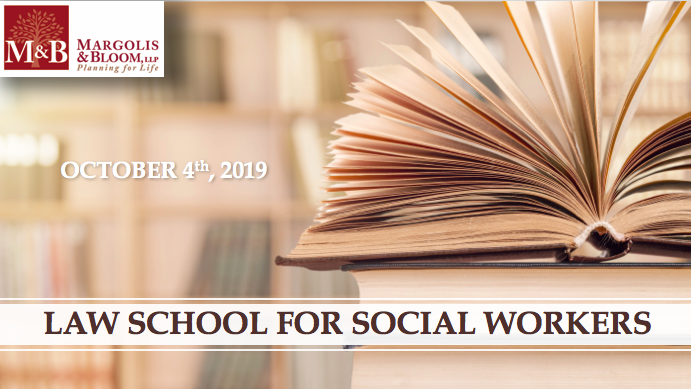 Join Margolis & Bloom at our annual Law School for Social Workers, and fulfill your CE credits. We will be hosting three, one-hour sessions, which are each worth one CE credit.
Speakers: Jeffrey A. Bloom, Patricia C. D'Agostino and Laura Goodman
Cost: $25 early bird, $35 at the door
FIRST 10 Registrants get a free copy of Harry S. Margolis' new book, Get Your Ducks in a Row: The Baby Boomers Guide to Estate Planning
8:30am – 9am – Registration
9am – 12pm – Presentations
12:00pm – 12:30 – Light apps and refreshments
Topics include:
MassHealth Community Benefits – Provides an overview of the various MassHealth programs available to help seniors and disabled individuals to receive assistance with the cost of care at home or in an assisted living facility. (The rules have changed since last year.)
MassHealth Eligibility for Nursing Home Care – Summary of the MassHealth eligibility rules for coverage of nursing home care and ways to protect the spouse of a nursing home resident from depleting all of her assets.
Guardianship & Conservatorship – Essential estate planning documents everyone should have to avoid a guardianship or conservatorship and a discussion about the guardianship and conservatorship process for those who do not have an estate plan in place.
All ticket proceeds with be donated to the Massachusetts General Hospital Frontotemporal Disorders Unit. (MGH FTD Unit) is a clinical research program caring for individuals living with Frontotemporal Disorders, atypical and young-onset Alzheimer's Disease, ALS and related disorders. We provide services in the areas of neurology, neuropsychology, neuropsychiatry, speech and language services, social work and caregiver support. Our team members are dedicated to providing the highest quality of care while working tirelessly towards a cure for these devastating conditions." To learn more: www.FTD-Boston.org
{{cta('0b1ac6ca-d71b-4dcd-a280-544451ffdf7d')}}